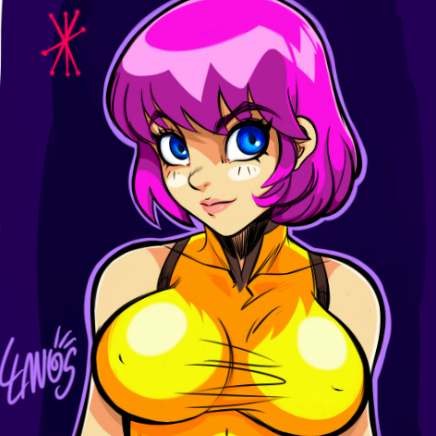 Hi there everyone,
It has been a while since last time I posted something here. I was mostly busy working, or having to get my laptop fixed among many other things such as the Holidays craze.
On that note, Merry belated Christmas and Happy New Year!
I am slowly but surely crawling my way out of the "interesting" weeks of Holidays that are kind of preventing me from working as much as I would want to. Hoping to get back to my normal schedule soon.
I'm back today with a new announcement regarding a project that I have worked on during 2018. This project isn't new, my friend Jorge De La Rosa announced a long time ago but I directly wanted to talk to you about this.
I've had the great opportunity to work on the Kitty No Hibi manga series that Jorge De La Rosa has created. We did a spin-off Hentai of this series titled: Kitty No H and it is already available for you to read.
The full title is: Kitty No H: Kitty Resurgence.
The story and the script for it were both written by me. It was based on the original concept and characters created by Jorge De La Rosa with him as the artist for the book.
"The story follows Kitty Sakuramoto as she was just interrupted during her martial art training. She later wakes up in a cell where she will quickly be "entertained" by a bunch of robotic tentacles."
What's Included:
'Kitty No H: Kitty Resurgence' is a short seven pages long digital comic book. The interior is in black and white with a colored front cover page. As previously explained on this page, this title is very much NSFW.
In order to read it, you simply have to be a supporter on the Patreon page of the artist of this book himself, Jorge De La Rosa. Please scroll down to do so.
You can access this digital Hentai comic by supporting Jorge De La Rosa on Patreon: Go here to do so: http://www.frkstudio.net/KittyNoHibi/kitty-no-h-manga/?fbclid=IwAR0QK–Iw2dDDGsvqBzHpGJBsw-WK_9dDbgP4F_z0dbL7Qv37x0zQ4IbD8I
You can also read the first adventures of Kitty Sakuramoto for FREE over there: https://tapas.io/series/Kitty-No-Hibi
Jorge De La Rosa's web-site: http://www.frkstudio.net/KittyNoHibi/
More info regarding Kitty No H: http://seishi.xyz/kitty-no-h-kitty-resurgence
Thanks for reading this announcement.
Please consider following Camille Juteau on Twitter: https://twitter.com/SeishiHentai
If you wish to donate to us so we can keep making Hentai Stories, Comics, Manga, and more, please do so using this link here: https://www.paypal.me/CamilleJuteau
If you still desire to support without only donating, you can order your copy of my new Hentai Novel, Swirling Depravity, right now. It is available for you to grab and read right now. Both available as a digital eBook and US trade paperback.
Link here: http://www.lulu.com/shop/camille-juteau/swirling-depravity/ebook/product-23708299.html
Become a supporter on the Patreon in order to help make Terminal Desires and OIL Chapter Twopossible: https://www.patreon.com/Jimjim3dx
Sincerely.
-Camille.